Customer service
Do you have any questions about a product or your order?
call, chat or mail us!
We speak English!!
We are here to answer your questions on:
Weekdays 09.00 till 18.00 CET
Saturday 09.00 till 16.00 CET
+31(0)46-4581030


[email protected]


Live chat starten
Safe payment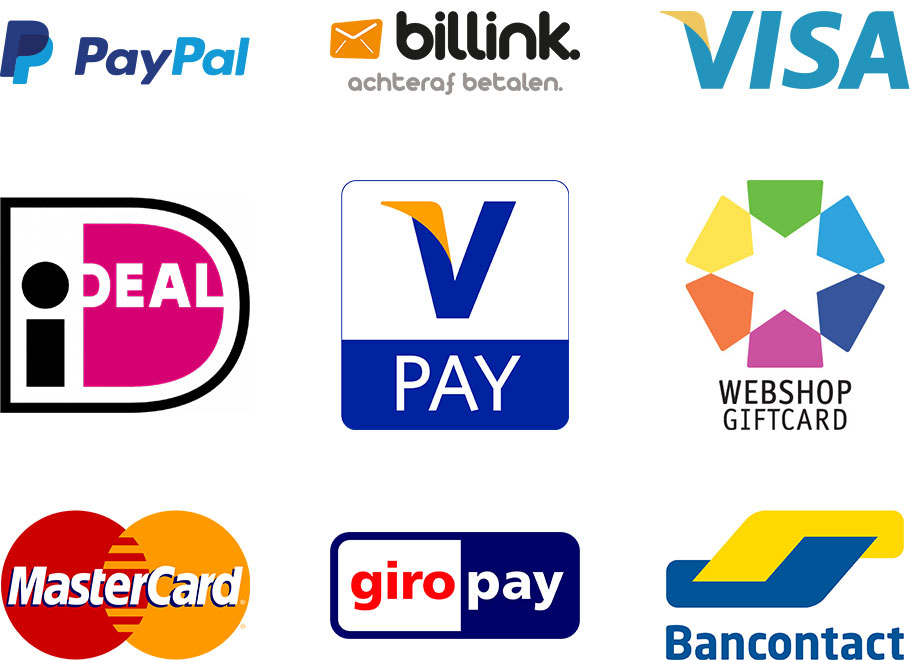 Why choose M2 Trading?
Free shipping on orders above € 75,-
Great catalog of products, all in stock
Competitvely priced
Collect at our pick-up counter available
Easy returning
Choose your delivery date yourself
collect your order in one of the 2900 pick-up locations in the Netherlands
Customer service available phone and email
The certainties of "Thuiswinkel Waarborgfonds"
Exhaust stand Fast Peugeot scooters, 45km/u performance Viva city, Peugeot Speedfight 2, Peugeot Speedfight,
This fits the following scooters
Peugeot Buxy 1994-1997 (kunstof tank)
Peugeot Buxy 1994-1997 (stalen tank)
Peugeot Elyseo
Peugeot Elystar
Peugeot Speedake (kunststof tank) 1994-1996
Peugeot Speedake (stalen tank) 1994-1996
Peugeot Speedfight 1 50 2T A/C 1997-1999
Peugeot Speedfight 1 50 2T L/C 1997-1999
Peugeot Speedfight 2 50 2T A/C
Peugeot Speedfight 2 50 2T L/C
Peugeot Squab
Peugeot Trekker 50 1998-2000
Peugeot Vivacity tot 2008
Peugeot Zenith
The characteristics for this are:
type of engine: 2-Stroke
Cylinder capacity: 50CC
Color: Black
Brand: DMP
When you order this online with us before 17:00 hours you will receive it tomorrow at home.
If you have any questions, please contact our customer service unit via chat, e-mail or telephone.
article number: 60713
Product reviews
Name:
Sjaak
Place:
Hoek (ZLD)
Description:
uitlaat past precies alleen jammer dat ik geen uitlaat pakking ring kon vinden van 32mm voor mijn Peugeot
Name:
Rob
Place:
Delft
Description:
Lekker stil en scooter trekt beter
Name:
Sjaak
Place:
Benthuizen
Name:
anonymous
Description:
Super mooie uitlaat
Name:
Florus
Place:
Zevenaar
Name:
Ron
Place:
Hoensbroek
Description:
Mijn oude uitlaat zat helemaal dicht en wou geen duidelijk zichtbare snelle uitlaat,daarom een standaard snel uitvoering. En scooter rijd nu stuk beter.
Name:
Hans
Place:
Zuid Beijerland
Description:
Niks mis mee
Name:
Peter
Place:
Zeewolde
Description:
Puntje eraf gehaald en rijd perfect
Name:
Andre
Place:
Goes
Description:
this exhaust pipe is not for speed fighter 2.
Name:
anonymous
Place:
Stiens
Name:
Carola
Place:
Apeldoorn
Description:
prima uitlaat
Name:
Esmeralda
Place:
Den haag
Name:
Wil
Place:
Simpelveld
Description:
goede prijs - kwaliteit verhouding
Name:
P de bruin
Place:
Strijen
Description:
Netjes ingepakt en snel geleverd
Name:
John
Place:
Heerhugowaard
Description:
Goed
Name:
Mark
Place:
Hoogeveen
Description:
Niet te duur en werk prima voor een jaartje of drie daarna weer een nieuwe eronder
Name:
Didier
Place:
Knokke, Belgie
Description:
Uitlaat past perfect, originele look, niet echt stil.
Name:
Dirk
Place:
Leeuwarden
Name:
Marco
Place:
Den Helder
Name:
Ben
Place:
Bergen L
Description:
goede uitlaat voor die prijs past precies
Name:
Peter treffers
Place:
Helmond
Name:
Will
Place:
Lelystad
Name:
Piet
Place:
Zaandam
Description:
Product functioneert goed. de scooter is inderdaad sneller en trekt beter.
Name:
Ben
Place:
Maashees
Description:
Prijstechnisce zeer interesant Bij dealer was de prijs dubbel zo veel
Name:
Wijtse Schut
Place:
Delfzijl
Name:
Henk
Place:
Amerongen
Name:
Mark
Place:
Rijssen
Description:
Top
See here for which models this part fits