M2 Trading wholesaler, importer of: scooter parts & accessories.
We supply a wide range of parts for scooters from brands like Abus, TNT, Malossi, Yasuni, Romano, Giannelli, Sito, Leovince, IXL, Laser, Roost, NGK, Sava, D'stone, Vredestein, Michelin, Opticparts DF, YSS , PUIG, Schwalbe, Metra kit, Continental, Dayco, Koso, EBR, Nitro, SBS, Shad, SKF, Eurol, Castrol, Kroon-oil, Dellotro, Dr., Top preformance, Top Racing, Carenzi, Motip, Bicycle Gloss, Pro-tect, Starry, DMP, WD40, Abus, Olympia, Airsal, Artek, RMS, Buzetti, Landport, Bofix, Pinasco, TJT etc. ..
In the spring of 2012 we started supplying parts and accessories to private parties.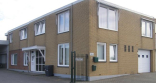 We have over 8000 products available from stock!
Before 15:00 ordered means the next day delivery!
For the rest of our range means a delivery time of 2 days.
If your order is delayed, than you will be informed by email!